---
Third Sunday of Lent, Year C
Exodus 3:1-8a, 13-15
Psalm 103: 1-2, 3-4, 6-7, 8, 11
1st Corinthians 10:1-6, 10-12
Luke 13:1-9
---
Our gospel reading gives us three separate images of our main theme for today. Our theme is that of God's desire for our reconciliation with Him, Who is the source of life and salvation. God says to us repeatedly through His prophets that He does not delight in the death and destruction of the sinner. He is God of life. He wants not death, but that the sinner would repent, call upon God's mercy, live according to the truth, bear the good fruit of faith and virtue, and share in eternal life.
In our first reading, we hear God's call of Moses from the encounter of the burning bush, which is in flames, but is not consumed by them. God proclaims to him, "I am the God of your fathers… the God of Abraham, the God of Isaac, the God of Jacob… I have witnessed the affliction of my people in Egypt and have heard their cry… so I know well what they are suffering. Therefore I have come down to rescue them… and lead them out… into a good and spacious land, a land flowing with milk and honey." This doesn't sound like a God who is all wrath and destruction and judgment. This is the revelation of a God of relationship, of nurturing, guiding, and protection. This is a God who hears the cry of His own people and enters into their suffering, and leads them through their suffering, and delivers them to goodness and abundance.
Our Psalm echoes that theme: "The Lord is kind and merciful… He pardons all your iniquities, heals all your ills, He redeems your life from destruction, crowns you with kindness and compassion… He has made known his ways to Moses, and his deeds to the children of Israel."
When God revealed his name to Moses, in our first reading, it's extremely difficult to translate the full impact of what's contained in the short, simple Hebrew. "'I am who am.' Then he added, 'This is what you shall tell the Israelites: I AM sent me to you.'" It reveals that God is being; As St. Augustine explored in his Confessions, time exists only to matter, and God is infinitely transcendent to matter. So God is beyond time. We think of God in our material, temporal terms, "as it was in the beginning, is now, and ever shall be." Infinite, perfect existence. But that's the perspective from within our time. From God's perspective, He simply is. He is the perfection of existence: love, light, goodness, beauty, wisdom, compassion, justice, etc. Time is just a little span of drama. He can see the whole continuum of time. He can do what he wants in any point of time. His nature is to provide being to all things, and to be well-disposed toward the flourishing of their being, their nature. It's not that God is vindictive or wrathful, but rather when human beings  make choices that hit against the well-being of their own nature and existence, then their existence, human nature itself, hits back. Not with the intent to destroy, but with the intent to bring one back into harmony with its nature, its flourishing. To quote the humorous sign I saw recently, "Everything happens for a reason, and sometimes that reason is that we're stupid and make bad decisions."
Often, then, our suffering is rooted in some pattern of sinful choices that frustrate our goodness and happiness. But Jesus' message in our gospel reading is that this is not true for all suffering. 
In fact, the two examples at the beginning of our gospel are the two sources or kinds of evil: moral evil, and natural evil. Moral evil is suffering that comes from sin committed by a person. In our Gospel reading, Pontius Pilate slaughtered some Galilean Jews and mixed their blood with the blood of the sacrifice they were offering in worship. Natural evil refers to suffering that comes from something that just happens without blame. 
In our Gospel reading, eighteen people were killed in Jerusalem when a tower fell on them. We might add with that other natural disasters, such as flooding, or earthquakes; and disease, like cancer, or pneumonia. It's perhaps a little easier to process the suffering or death of a loved one from moral evil: there's someone to blame, someone to be angry at, someone to work toward forgiving. It's often more difficult to process when the suffering or death of a loved one is from a natural evil.
Since suffering that comes from our own bad choices, and suffering from natural evil, both lack a "person out there" to blame, we can sometimes confuse the two. How often someone asks, "Why me? Why do I deserve this?" or worse, they say it about a tragedy that happens to a child. We can't presume that our suffering is always deserved, because that's just not always the case… which should bring some relief, but it often doesn't. Because if it were something that we did to deserve it, we might be able to fix it. And that allows us to live in a universe that's fair and makes sense to us (and implies we as humanity are in control of whether we suffer). But if it's natural evil, again, that's often harder to process, because we believe that if we do the right things, we won't suffer. And when tragedy strikes anyway, there might be a feeling of betrayal: that's not fair. The natural response in that case is then to blame the only other person that can be blamed: God. How many people have lost their faith because of tragedy? As if faith in God is protection against suffering (as though suffering were completely avoidable, or even that suffering is bad; certainly we don't enjoy suffering, but in a modern society where pleasure is the ultimate blessing, suffering is the ultimate curse). God doesn't always protect us from suffering. God didn't keep the Israelites from becoming slaves in Egypt. And the Scriptures say nothing of their deserving to become slaves. But God does deliver them from slavery, and for the rest of their history, their cultural experience of slavery becomes a constant image for the captivity of sin, and the power of God to deliver them from slavery into the Promised Land. 
---
Back to the Gospel reading… Jesus says, "Do you think that, because this happened to them, they were greater sinners than all other Galileans?" "Do you think they were more guilty than everyone else who lived in Jerusalem?"
"By no means," he says. "But… I tell you, if you do not repent, you will all perish as they did!" Jesus uses these examples to remind us that we must not make excuses for putting off repenting of our sinful habits and attachments, reconciling ourselves with God, and living always mindful that at any moment we might perish without warning. I've never gotten caught up in predictions about when the world ends, and what the end of the world and general judgment will be like. Because there's only a possibility that we'll be alive when that happens. But it's absolutely guaranteed that we'll see our own life end, and our own particular judgment. And that could happen at any time. 
That doesn't mean adopting the self-absolving attitude, "I live with no regrets," because there very well might be some big regrets you'll have, if you unexpectedly find yourself before the God who called you to repentance, and whose invitation you postponed and ignored. And it also doesn't, on the other hand, mean living in scrupulous fear of making a mistake and losing your salvation. (God does not have angels with notepads keeping track of our every little sin… we talked about that here). What it does mean is that our God is generous in mercy, always inviting us to partake of his repentance and salvation. But we only have this life to do that, and this life can end in an instant. We might not get the time we think we have. And if we unexpectedly have to answer for having delayed our repentance and living by God's way, if we haven't done all we could to purge sinful behaviors and vices and ordered our life to love God with all our heart, all our soul, all our mind, then we might find that the secular message that "everyone who's basically a good person goes to heaven," isn't what God says.
At the end of our second reading, the Word of God says, through St. Paul, "…whoever thinks he is standing secure should take care not to fall." Elsewhere, St. Paul says to the Philippians, "Work out your salvation with fear and trembling." At the end of our Gospel reading, Jesus gives us another parable: a fig tree that is failing to be fruitful. The landowner loves his orchard, all the trees that generously put forth their fruit, as it is a tree's nature to do, when nurtured, and cared for, as God cares for us. But about the unfruitful tree, the landowner tells the gardener, "For three years now I have come in search of fruit on this fig tree but have found none. So cut it down. Why should it exhaust the soil?" The gardener responds, "Sir, leave it for this year also, and I shall cultivate the ground around it and fertilize it; it may bear fruit in the future. If not you can cut it down." If we're wasting the talents and resources God is giving us, and yet we won't produce the fruit we're supposed to… maybe we'll be left for another year… and maybe that year is already up.
---
When I had my dad as a high school biology teacher, he always called the Chapter 3 test "The Rude Awakening." The first two tests weren't necessarily easy, but this test clearly raised the bar, and students struggled (not always successfully) with the new level of challenge. He was a great teacher. He was just, and he was merciful (which was good, because I'm not really good at biology!). After the first two weeks of Lent, with Jesus triumphing over Satan's temptations, and the glorious beauty of the Transfiguration, this week's Gospel, here in Week 3 of Lent, Jesus raises the bar, and gives us our Rude Awakening: We're not resting in the verdant pastures of heaven yet. There's work to be done. If you do not repent, you will perish.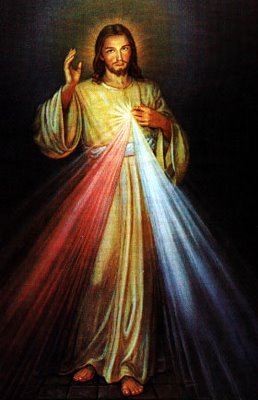 The truth of the gospel is not just about God's beautiful invitation to his mercy and kindness—it is that—but also about God's requirements of justice and truth—that we must accept the invitation to repent (from the actions we've done and the habits we have that conflict with the flourishing of our human nature), and bear fruit. The way to salvation is steep and narrow, and few are those who find it. You can't just float upstream. Things float downstream. If we're going to go up, it's going to be by repenting of our sins, reconciling ourselves with God's Divine Mercy, and bearing the fruit of our faith.