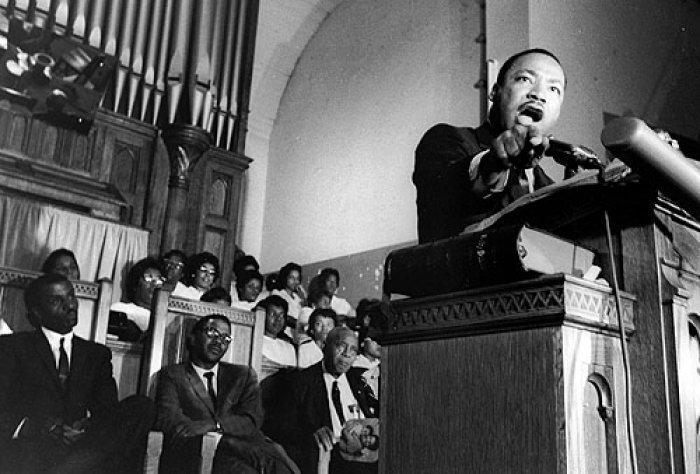 The Reverend Doctor Martin Luther King, Jr. wrote a letter now famously called, "Letter from a Birmingham Jail" (which I highly recommend). In the letter he responds to different criticisms he received from various local Christian ministers about the resistance demonstrations he orchestrated.
To the criticism that he is from Atlanta, Georgia, and has no business as an outsider protesting in Birmingham, Alabama, he confirms that first, as president of the Southern Christian Leadership Conference, which has ties all over the South, including Birmingham, he was invited to come by the black community there. And second, he says we can no longer think in terms of isolated communities, since all of society is interconnected, and that "injustice anywhere is a threat to justice everywhere." Therefore even as a so-called outsider, he has a vested interest and right to stand against injustice, even in Birmingham.
To the second criticism, that he should be promoting negotiation instead of sit-ins and marches, he responds that yes, he absolutely agrees. But those invited to dialogue have failed to negotiate in good faith, either refusing to come to the table, or consistently failing to carry through on their agreements, and those suffering injustice have concluded that negotiation has sufficiently failed.
And third, he responds to criticism that his activity is extremist. And to that, he responds that he is standing between two opposing responses within the suffering black community: on the one hand, the "do nothings" of those so used to things as they are that they've lost their hope for change, or those who have enjoyed a bit of prosperity and have not advocated on behalf of those they left behind, and on the other hand, those who have given up on the current social and political system and are angry and ready for violence. He says, "I have tried to stand between these two forces, saying that we need emulate neither the 'do nothingism' of the complacent nor the hatred and despair of the black nationalist. For there is the more excellent way of love and nonviolent protest… So I have not said to my people: 'Get rid of your discontent.' Rather, I have tried to say that this normal and healthy discontent can be channeled into the creative outlet of nonviolent direct action." King was a Christian leader, a prophetic voice in a time of tension, hope, and suffering. Like many prophets, he was not always well-received, especially by those comfortable with the injustice of the status quo. Like many prophets, he was killed for trying to change it.
---
In our gospel reading, we get the second half of the story of Jesus going to the synagogue in Nazareth. Last week we heard him read from the scroll of Isaiah of the anointing and ministry of the Messiah. Then Jesus follows this by telling them, "Today this Scripture passage is fulfilled in your hearing." Today we see their response.
At first, it was a positive response. "All spoke highly of him and were amazed at the gracious words that came from his mouth." Then it kind of begins to fall apart. "They also asked, 'Isn't this the son of Joseph?'" In other words, some of the crowd's response was, "He's claiming to be the Messiah?? Hmm. I doubt it, he's just the kid of that carpenter Joseph. That's all he is."
Jesus picks up on their disbelief. "He said to them, 'surely you will quote me this proverb, "Physician, cure yourself," and say, "Do here in your native place the things that we heard were done in Capernaum." Amen, I say to you, no prophet is accepted in his own native place.'" In other words, Jesus presses on their lack of faith. They will tell him, "You healed strangers in Capernaum, so now heal your own flesh and blood here in your home town. And then we'll believe you're more than just a carpenter's son."
Jesus instead replies with two well-known Old Testament references. We recently had the story of the Widow of Zarephath (1 Kings 17:8-16), a poor pagan woman gathering sticks at the city gates to prepare her last meal, when the prophet Elijah gave her the miracle of the flour and oil that didn't run out for a year, until the famine was over. And we'll hear later this year the story of Naaman (2 Kings 5:1-14), a pagan general in the army of one of Israel's neighbors, who was cured of leprosy by the prophet Elisha.
Jesus is saying to his audience in Nazareth that in those times, Israel was wicked and faithless, and so God didn't work His miracles for his people Israel, but instead sent his prophets to work miracles for the pagan nations. And now, he says to his audience, the promised Messiah is here among you, and you also are wicked and faithless, and so the working of miracles is withheld from you, and extended to strangers who actually have the faith you lack. And so yeah, the people got rather angry with Jesus at that point.
When we see Jesus get angry like this, and offends people, we need to remember that Jesus is the living love of God. He loved the stubborn people of Nazareth with divine love, but they frustrated him because they were not open to receive the love that God wants to give them. Jesus destabilized the routine of the status quo. He was introducing a new thing that was different and better than the world as they've known it. But they preferred the way it's always been done, and they resisted Jesus' desire to open them up to God's healing grace and forgiveness. They were too stuck to turn away from the sin and corruption of the status quo.
Several scripture commentators remark that here at the beginning of his earthly ministry, Jesus says to the people, "Surely you will quote me this proverb, 'Physician, cure yourself.'" And at the end of his earthly ministry, as Jesus is dying on the cross, the people say to Jesus, "(If you are the) Son of God, save yourself!"
At the end of today's gospel reading, it says, "They rose up, drove him out of the town, and led him to the brow of the hill on which their town had been built, to hurl him down headlong. But Jesus passed through the midst of them and went away." Saint Ambrose (the teacher of St. Augustine), provides his explanation: "Understand that [Jesus] was not forced to suffer the passion of his body. He was not taken by the Jews but given by himself. Indeed, he is taken when he wants to be. He glides away when he wants to. He is hung when he wants to be. He is not held when he does not wish it. Here he goes up to the summit of the hill to be thrown down. But, behold, the minds of the furious men were suddenly changed or confused. He descended through their midst, for the hour of his passion had not yet come. He passes through the midst of them."
---
The kind of rejection that Jesus receives for his prophetic mission as the Messiah, first here in Nazareth, and then all throughout his ministry, is foreshadowed first by the Old Testament prophet Jeremiah. And our first reading is the calling of Jeremiah. "The word of the LORD came to me, saying: Before I formed you in the womb I knew you, before you were born I dedicated you."
A bit off topic, but that's a very important scripture verse for pro-life advocacy. God creates a person in the womb, with His plan for that person, that person's unique set of gifts, and with His intimate love for that person. And if we are to be God's people, we must protect the life of that person, as our brother or sister, a child of God like ourselves, with infinite dignity, and a right to live out their days until God calls them from this life to Himself.
"But gird your loins; stand up and tell them all that I command you… for I have made you… a pillar of iron, a wall of brass… against Judah's kings and princes, against its priests and people. They will fight against you but not prevail over you, for I am with you to deliver you, says the LORD." Jeremiah's ministry as prophet was one of hardships, of opposition, and suffering. He was called to chastise a people who were not going to listen to him, but punish him for trying to correct their corruption and sin. He was called to bring them back to faith in God and the blessings of the covenant, but they would reject him. But he remained faithful, and God brought him consolations.
Fr. Tony Kadavil describes this call to Jeremiah by showing how God makes four assertions: "I formed you" (as a potter forms clay), "I knew you" (referring to the intimate relationship between God and Jeremiah), "I dedicated you" (consecrating Jeremiah to do God's work), and "I appointed you" (to a mission as His prophet to Israel). At the start of Jeremiah's ministry, God warns the young prophet not to be intimidated by those to whom he prophesies. "They will fight against you," God warns, "but will not prevail over you, for I am with you to deliver you." During his lifetime, Jeremiah was considered a total failure, but in later times he has been recognized as one of Israel's greatest prophets.
Dr. John Bergsma draws a good number of connections between the life of the prophet Jeremiah, and the life of Jesus, much which also fits the description of Isaiah's mysterious Suffering Servant (e.g, Isa 52:13-53:12):
chosen from the womb (Jer 1:5; Lk 1:31);

destined for rejection and conflict with their people (Jer 1:18-19; Lk 2:34-35),

called to celibacy (Jer 16:1-4; Mt 19:10-12),

likened to a sacrificial lamb (Jer 11:19; Jn 1:29,36),

betrayed by those closest to him (Jer 12:6; Jn 13:18,38 etc.)

preached against the Temple and predicted its destruction (Jer 26:2-6; Mk 11:15-19, 13:1-2)

opposed and persecuted by the chief priests for doing so (Jer 20:1-3; 26:7-9; Mk 11:18)

condemned to death for doing so (Jer 26:8-9; Mk 14:57-58)

tried by a vacillating, partly sympathetic, yet weak-willed civil magistrate (Jer 37:16-38:28; Jn 18:28–19:16)

cast into a pit and raised up from it again (Jer 37:6-13; Jn 19:40–20:18).
This call to be "a pillar of iron, a wall of brass" does not mean that we can become hardened and callous in our mission. That's what makes it even more difficult: Even though we will be attacked with (and ourselves accused of) injustice, our vocation is to continue to love, to appeal, to earnestly desire the conversion and salvation of those who oppose us.
Again, from Dr. Bergsma:
The reality of sin in human society means that the quest to be like God, to do the good, to attain holiness, will inevitably lead to conflict with others who are not on that quest.  Our Lord taught us so in his most famous sermon:
Blessed are those who are persecuted for righteousness' sake, for theirs is the kingdom of heaven.  Blessed are you when men revile you and persecute you and utter all kinds of evil against you falsely on my account.  Rejoice and be glad, for your reward is great in heaven, for so men persecuted the prophets who were before you. (Matt 5:10-12)
That is usually the life of a prophet. Like the opposition experienced by Jesus. And like the opposition that Jesus promised would be experienced by his prophetic people who deny themselves, pick up their crosses, and follow him—People who weep when the world applauds. People who give generously when the world hordes. People who lay down their lives for truth, when the world kills for power and pleasure.
---
Why would we do that? What is it that marks the people of God as different than the world?
"Faith, hope, and love, and the greatest of these is love."
In the second readings of the last few weeks, St. Paul has been teaching about the essence of Christian community, how it is a body, which needs all its members to work together in love, to care for one another, and generously share their gifts. In this beautiful chapter today, Paul teaches the community how each member (and how the community) is to know they're using their gifts in the right way. We can have wonderful talents, we can have wealth, intellect, faith, generosity. But if our gifts (our charismata, as Paul says in the Greek) are not put at the service of love poured out for God and one another, it's all for nothing.
The Corinthian community was being torn apart by their boasting of their gifts (tongues, prophecy, knowledge, faith, etc.), and here Paul puts them all rightly at the service of the one gift that gives them meaning, and without which they are wasted. But worse still, if they become a source of pride and rivalry, what a sinful betrayal of God's gifts!
"If I speak in human and angelic tongues, but do not have love, I am a resounding gong or a clashing cymbal. And if I have the gift of prophecy, and comprehend all mysteries and all knowledge; if I have all faith so as to move mountains, but do not have love, I am nothing. If I give away everything I own, and if I hand my body over so that I may boast, but do not have love, I gain nothing."
Paul then describes love. Like the Beatitudes that Our Lord gives us in the Sermon on the Mount, Paul's description of love is really an image of Christ, a portrait in words.
"Love is patient, love is kind. It is not jealous, it is not pompous, it is not inflated, it is not rude, it does not seek its own interests, it is not quick-tempered, it does not brood over injury, it does not rejoice over wrongdoing but rejoices with the truth. It bears all things, believes all things, hopes all things, endures all things. Love never fails."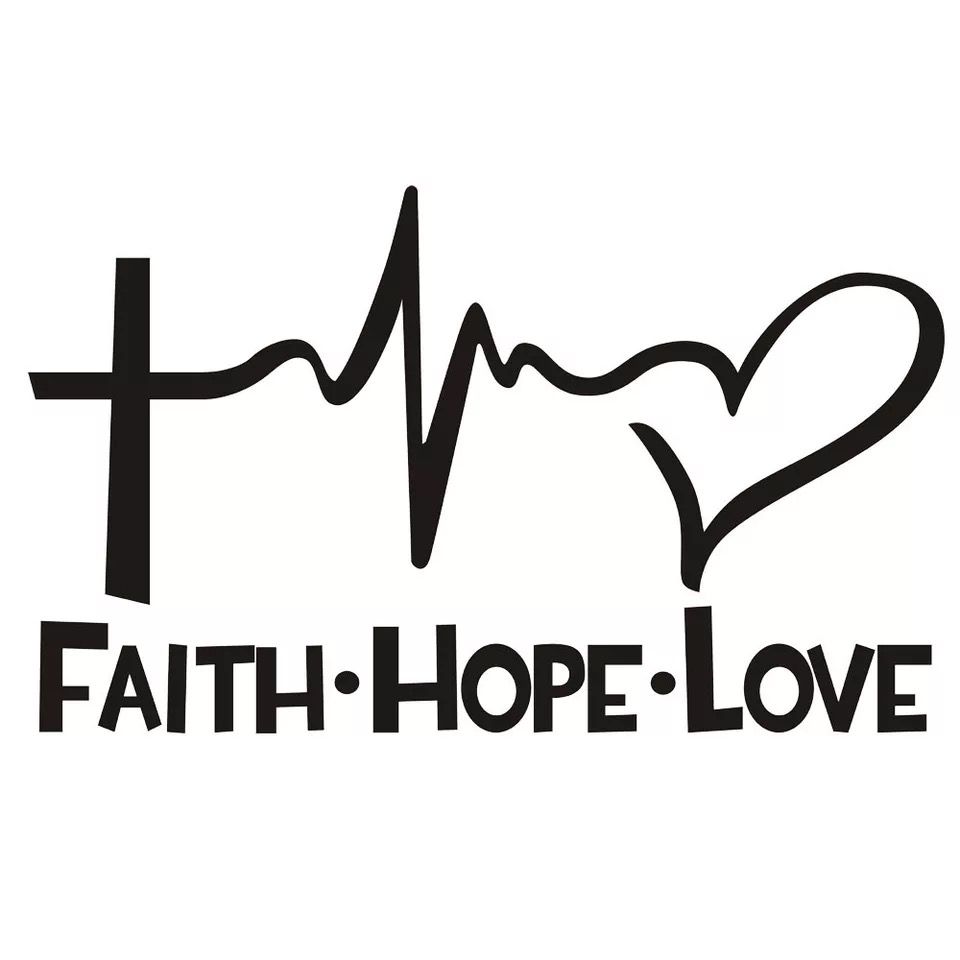 Of course, this is a very popular and trendy reading for weddings, because it uses the word "love" over and over, and is a beautiful poem. But (hopefully) more importantly, it inspires couples to apply these attributes to their own love for one another; building up their dependence on grace to purify their wavering, imperfect, human love into enduring, perfect, divine love.
From a homily on this reading by Father Raniero Cantalamessa, O.F.M. Cap., the Preacher to the Papal Household:
Paul's message is quite relevant today. The entertainment and advertising worlds seem bent on inculcating in young people that love is reducible to "eros" and that "eros" is reducible to sex. Life is presented as a continual idol in a world where everything is beautiful, young, and healthy… But this is a colossal lie that generates unrealistic expectations, which, once they are not met, provoke frustration…
In the love between a husband and wife "eros" prevails at the beginning, attraction, reciprocal desire, the conquering of the other, and so a certain egoism. If this love does not make an effort to enrich itself along the way with a new dimension, one of gratuity, of reciprocal tenderness, of a capacity to forget oneself for the other, and to project itself into children, we all know how it will end.
Because Paul's description is an image of Christ, it should also be an image of every Christian who follows him. Because in the end, it is only generous divine love accepted into our hearts and poured out into our lives that matters.
"If there are prophecies, they will be brought to nothing; if tongues, they will cease; if knowledge, it will be brought to nothing. For we know partially and we prophesy  partially, but when the perfect comes, the partial will pass away. When I was a child, I used to talk as a child, think as a child, reason as a child; when I became a man, I put aside childish things. At present we see indistinctly, as in a mirror, but then face to face.
At present I know partially; then I shall know fully, as I am fully known."
In the end, there will be no prophesies: all will be revealed. There will be no tongues: we will understand one another without difficulty. When we enter into God's presence, we will see the triviality of worldly concerns. As God knows us in perfect light and truth, our partial light and truth will be perfected in Him, and we will behold Him (and one another, and ourselves, as we really are) in His perfect light and truth.
Christ loved his enemies and persecutors, and so must we. Christ loved sinners and the poor, and so must we. Because of his love, Christ suffered rejection, ridicule, injustice, and even death, and so must we.
---
Rev. Dr. King, in his last Christmas sermon (1967) before his assassination, puts this all in terms of his ministry against the racial tension, injustice, and violence of his time. It is an incredible call to how Christians must respond, to truly be a witness to the image of Christ, the living love of God, in our lives.
"I've seen too much hate to want to hate, myself, and every time I see it, I say to myself, hate is too great a burden to bear. Somehow we must be able to stand up against our most bitter opponents and say: 'We shall match your capacity to inflict suffering by our capacity to endure suffering. We will meet your physical force with soul force. Do to us what you will, and we will still love you. We cannot in all good conscience obey your unjust laws and abide by the unjust system, because non-cooperation with evil is as much a moral obligation as is cooperation with good, so throw us in jail and we will still love you. Bomb our homes and threaten our children, and, as difficult as it is, we will still love you. Send your hooded perpetrators of violence into our communities at the midnight hour and drag us out on some wayside road and leave us half-dead as you beat us, and we will still love you. Send your propaganda agents around the country and make it appear that we are not fit, culturally and otherwise, for integration, but we'll still love you. But be assured that we'll wear you down by our capacity to suffer, and one day we will win our freedom. We will not only win freedom for ourselves; we will appeal to your heart and conscience so that we will win you in the process, and our victory will be a double victory.'"