The Holy Family (Sunday within the Octave of Christmas) (Year A)
Sirach 3:2-6, 12-14
Psalm 128:1-2, 3, 4-5
Colossians 3:12-17
Matthew 2:13-15, 19-23
---
I had Brussels sprouts this year for the first time (and last time). I always avoided them, but I was recently at Bully's, and they just came as the vegetable for that entree. So I thought, ok, given how delicious and savory the food is at Bully's, this is giving Brussels Sprouts the best possible chance of success. If I don't like them here and now, they blew their chance, and that's that. A fair, even favorable, trial was held, and the verdict was rendered: Never again. Right down there at the bottom of my list with oatmeal raisin cookies. 
How did I escape my childhood without ever having had Brussels sprouts? That is one of our great family traditions. The story, as I remember it, is that when my parents were newlyweds, they figured out that neither of them liked when they were forced to eat Brussels sprouts as kids. And so, embracing their autonomy as a new family, they declared that they never had to eat Brussels Sprouts again. And so, my sister and I reaped the blessings, as we in our childhood innocence were preserved from the abomination of Brussels sprouts.
That was good. It's a family's prerogative to set up their home in the way that brings happiness, peace, and order. When I moved out on my own, I did the same thing, dropping some things I had grown up with, adopting some new things. But with that comes the responsibility to persevere in things that you don't like, but you need to do. When I moved out I stopped going to church. I was much more interested in worldly pleasures. Life was not that good during that time. A lot of it was fun. But it wasn't good. And some very bad habits were picked up along the way.
I've had a lot of parents lament to me that they're worried that their children don't go to church, and maybe their grandchildren aren't even baptized. Young adults are declaring their independence. But as often happens, not always in a good way (especially in the long term). Parents, having gained wisdom, can more clearly see the dangers their children with blissful ignorance are heading toward. As one of my favorite sayings goes, "Good judgment comes from a lot of experience. And a lot of experience comes from bad judgment." Young adults don't always recognize the long term effects of their choices… bad habits they pick up, good habits they drop, like dropping their religious faith. Parents struggle with, "How much do I give my advice? How far do I let my kid go off the rails? How hard do I press that they need to practice their faith? How much do I give to help them?"
---
Among the many tensions in our society is the generation gap. As a card-carrying member of Generation X (well… we never got around to making the cards), I do get some enjoyment at sitting back with a bucket of popcorn and watching the liberal millennials and the conservative boomers fight it out over social media. It might be tempting to interpret this tension as just another facet of the rancorous left-right divide. But then there's the old quote, "If you aren't a liberal when you're young, you have no heart, but if you aren't a conservative when you're middle-aged, you have no head." The generational crisis, like the immigration crisis, like the church crisis, are important issues that need to be attended to. But these are also persistent tensions that flare up from time to time in human history. As Mark Twain quipped, "History doesn't repeat itself, but it does rhyme." I take some comfort in our readings today on the feast of the Holy Family, because they tell us that generational tension has always been a thing. Parents aren't necessarily going to feel respected by their children, and children aren't necessarily going to feel respected by their parents, but both are called to love, respect, and forgive one another. That's what makes a family a holy family.
"God sets a father in honor over his children; a mother's authority he confirms over her children. Whoever honors his father atones for sins… When he prays, he is heard; he stores up riches who reveres his mother…  he who obeys his father brings comfort to his mother… My son, take care of your father when he is old… revile him not all the days of his life; kindness to a father will not be forgotten…" Being respectful of one's parents is an act of righteousness, which mitigates against sin; an act that invests treasure in heaven. The Old Testament books of Wisdom aren't necessarily bound by culture, time, and place. Wisdom is universal and eternal. There's something essential about the good of human nature that is tied together with family bonds, even if the humans involved aren't that good. God gave us the blueprint for a family: a holy marriage of man and woman faithfully living out their vocation to self-giving nuptial commitment, together as the parents to their children. Now there's lots of variations of that. Some of that is good, like adopted children and foster families. Some of that is tragic, like infertility, disease, or death in the family. Some of that is sinful, like cohabitation or other romantic partnerships that aren't healthy. We forsake God's blueprint at our own peril. And when we oppose God's plan, we don't just damage ourselves, but others as well. Love isn't enough. It takes everyone involved to love with divine grace: selfless, forgiving, patient love. Sure, a good, loving, stable family doesn't necessarily require Christian faith. But the graces of the sacrament of baptism and the sacrament of marriage and living out those graces: That's what makes a holy family as an icon of divine love.
---
Our lesson continues in our second reading from St. Paul. Let's get the last little part out of the way first. "Wives, be subordinate to your husbands, as is proper in the Lord. Husbands, love your wives, and avoid any bitterness toward them." It sounds kind of denigrating to women, especially strong-willed, intelligent, type-A personality women. But if we combine this with Ephesians 5, yes, women are to love their husbands as the Church does Christ. But husbands are also to sacrifice themselves in loving service to their brides as Christ does for the sake of the Church. So it's a submission to each other that is mutual but different, not in dignity, but in design. A husband is to submit himself to his wife in a masculine way that serves her and the family in self-giving love. A wife is to submit herself to her husband in a feminine way that serves him and the family in self-giving love. Neither one is slave or master. Both lovingly serve God by lovingly serving one another with devotion, faithfulness, and humility.
"Children, obey your parents in everything, for this is pleasing to the Lord. Parents, do not provoke your children, so they may not become discouraged." Again, we have the admonition to respect and obey one's parents. Again, the generational gap has always been and will always be a source of tension: parents wanting to keep their children safe and on the right track, and children looking to spread their wings and venture out into the big open world. How each family virtuously and lovingly navigates that tension will be unique to that family. But it must be done virtuously and lovingly, with trust, patience, and compromise on both sides.
The larger first part of the second reading is Paul's guide for living in holy relationship with others. This reading is sometimes used in the blessing of family homes. It's said that familiarity breeds contempt (and children), and nowhere is the holiness and goodness of relationships tested more than in the trenches of everyday family life. "Put on, as God's chosen ones, holy and beloved, heartfelt compassion, kindness, humility, gentleness, and patience, bearing with one another and forgiving one another. If one has a grievance against another, as the Lord has forgiven you, so must you also do. And over all these put on love… in all wisdom teach and admonish one another… And whatever you do, in word or in deed, do everything in the name of the Lord Jesus…" If you could read this instruction every day as a family, and strive to live it out, and constructively help each other live it out, that would be key. Our Lord Jesus is of course the key to the holy family.
---
The Holy Family of Nazareth gives us a great model of the virtues we need as a holy family, especially in a crisis situation. Jesus is the incarnation of God. Mary is the Immaculate Conception. And then there's poor, normal Joseph, in charge of them. Joseph was chosen because of his character: he is just, he is faithful, he is virtuous. Joseph is not only entrusted with the holy family of Mary and Jesus, but he is also patron saint of fathers, and families, and patron and protector of the Church, God's entire family of the brothers and sisters of his only begotten Son. Joseph pours himself out in loving service to his family. Mary, seeing how good Joseph is, how beautifully he gives himself, willingly serves him, not in any way detracting from her own dignity. Jesus selflessly loves, humbly respects, and is obedient to, his parents, even though his dignity is infinitely beyond theirs.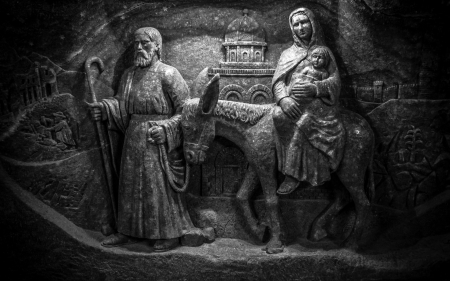 Lastly, in our gospel reading, we continue with the beginning of the book of Matthew. The Holy family is still in Bethlehem. The magi have just left, not returning to Herod because they picked up on his malicious intent. Joseph again receives his instruction from God through an angel in his dreams: Flee to Egypt, King Herod wants to destroy Jesus, whom he sees as a threat. "Joseph rose and took the child and his mother by night and departed for Egypt." Our reading skips a few verses, in which we have the "Slaughter of the Innocents," Herod's order to massacre all the boys in and around Bethlehem two years old and under.
A lot of people use the plight of the Holy Family in relation to the contemporary political problem of immigration. Certainly, the fairly common journey from Nazareth to Bethlehem or Jerusalem is not a good analogy. But the flight to Egypt is a stronger parallel. Without getting into the political quagmire, the Church's steadfast teaching is that we have a preferential option for the poor, suffering, and vulnerable. As such, we not only need to advocate and work toward a functional and compassionate immigration and asylum policy (and practice), but also we need to tend to the human needs and dignity of all people at all times. Those who venture to leave their dangerous or impoverished familiar homes with the hope of something better somewhere else, especially those who do so with young families, do so with courage and trust against great risks. It is also the host country's right to reasonably vet those seeking immigration to promote the health and safety and flourishing of its citizens and guests. It's a complex situation which requires a great deal of resources. Again, our role is to promote and assist in an adequate and just handling of immigration which respects the dignity and safety of all persons involved, especially the most vulnerable.
An unknown amount of time later, Joseph again receives an angelic visit in his dreams. "'Rise, take the child and his mother and go to the land of Israel, for those who sought the child's life are dead.' But when he heard that Archelaus was ruling over Judea in place of his father Herod, he was afraid to go back there… he departed for the region of Galilee. He went and dwelt in a town called Nazareth, so that what had been spoken through the prophets might be fulfilled, 'He shall be called a Nazorean.'"
Herod the Great, in power at Jesus' birth, was well known for his cruelty and insecurity, a dangerous, corrupt combination. After his death, his son Archelaus became king, but only of Judah (Judea), not all of Israel. He was just as brutal. So Joseph understood that the angel hadn't meant to return to "Israel" in the general sense, but the northern territory of Israel specifically (under Herod Antipas), avoiding the southern territory of Judah, where Bethlehem and Jerusalem were. So Joseph went back up to Nazareth, where Joseph and Mary had been before the census sent them down to Bethlehem.
Here, as Matthew tells us, Jesus grew up as a Nazorean, as the prophets foretold. Except Nazareth isn't mentioned in the Old Testament at all. Most likely Matthew is referring to the text we read about the shoot, or branch, growing out of the stump of Jesse, the father of King David. The Hebrew word for shoot or branch is almost the same word as Nazareth. So Matthew is connecting Jesus with the prophecy of one who is a new shoot or branch, a netzer, from Nazareth, a child who is one of the "Branch."
---
In today's society, there are many sinister attacks on God's plan for the family, both the holy family in the home, and the holy family of the Church (in other words, the hierarchical church, and the domestic church). Those sinister attacks come in the same form as the Enemy has always used: abuse, broken trust, lust, greed, and pride. If we are going to resist these attacks on the family, we need to increase our devotion to the Holy Family, especially to Saint Joseph, and ask for his intercession.
Holy Child Jesus, have mercy on us.
Immaculate Heart of Mary, pray for us.
St. Joseph, patron saint of fatherhood, and patron and protector of the family, and of the Church: pray for us.